| | |
| --- | --- |
| | Holiday Gift Bags |
| | Christmas Gift Bag |
| | Valentine's Gift Bag |
| | Easter Day Gift Bag |
| | Halloween Paper Bag |
| | Father's Day Gift Bag |
| | Mother's Day gift Bag |
| | Children's Day bag |
| | New Year Gift bag |
| | Occasion Paper Bags |
| | Birthday Gift Bag |
| | Wedding Gift Bag |
| | Everyday Paper Bag |
| | Project Packaging Bag |
| | Apparel Paper Bag |
| | Cosmetic Bag |
| | Wine Bag || Bottle Bag |
| | Baby Gift Bag |
| | Jewellery Bags |
| | Shoe Paper Bag |
| | Food Bag |
| | Coffee Carry Bag |
| | Bakery Paper Bag |
| | Cartoon Bag |
| | Flower Paper Bag |
| | Paper Box |
Holograms & Holographic Foils
If you're not sure of the difference between a hologram and a holographic foil, then read on! This primer should help you decide which option will work best for your creative vision as well as your budget.
A hologram is a unique design element that is used to create an area of emphasis,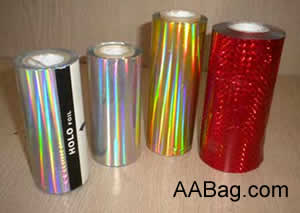 dramatize a product, include a security feature, or add secondary visual rhythms to a logo, border or panel. A holographic design can be applied in several ways,most commonly through the use of a holographic laminated paper or board, or through the process of foil stamping the hologram.Two separate basic types of holograms are utilized in paper decoration today. The first, pattern "wallpaper" holograms, consist of a continuous pattern throughout the design. This is the only type that can be used with a holographic paper or board. Holographic patterns can also be used in the foil stamping process to apply the pattern in specific areas on the substrate.The second type, image hologram, must be registered in a specific place on the finished product C this type of hologram must be foil stamped and applied with special registration equipment.
Holographic Patterned Foils
Holographic patterned foils consist of various elements or geometric designs repeated in either a random or structured pattern to create a two-dimensional effect. As the angle of view changes, individual elements within the pattern produce an illusion of depth, while the shimmering, prismatic effect creates a spectrum of changing colors. Many standard holographic patterns and colors are available. Common patterns include rainbow (oil slick with no actual pattern), kaleidoscope, broken ice and specific random shapes such as snowflakes and stars. The most common background color is metallic silver, but holographic patterns also are available in gold, red, blue and several other metallic colors.A relatively new product on the market today is clear holographic patterns. The foil product is completely transparent with a holographic pattern running through it. It has become quite popular on children's books, greeting cards and folding carton applications. It's most often foil stamped over the top of a printed image to provide both additional gloss and a holographic sparkle.Common applications for holographic patterns include packaging, greeting cards, book covers, brochures and special event invitations.